Medical School Education
General Radiology Elective
Medical students at Georgetown have the option of enrolling in a general radiology elective course during their third or fourth year of medical school.
The general radiology elective gives students a broad overview of the various disciplines within diagnostic radiology.
We will continue to offer a virtual rotation for this 2-week elective
With a dedicated team of faculty and students, we have created a robust virtual curriculum to keep students engaged. Students are expected to learn the fundamental modalities – such as plain film, ultrasound, CT, MRI and angiography – of diagnostic radiology and their use. Identification of "must know" pathologies is expected.
The course culminates in an exam and case presentation at the end of the rotation.
Fourth Year Electives
We are excited to welcome back M4s for IN-PERSON rotations!
Fourth year medical students wishing to increase their exposure to a particular subspecialty of radiology may do a one-month elective. Electives are available in:
Neuroradiology – 2 students
Interventional Radiology – 2 M4 students (Subinternship) and 1-2 M3 students
Musculoskeletal Radiology – 1 student
Nuclear Medicine – 1 student
These rotations allow for an intense focused experience within a particular field of radiology.
Responsibilities for each elective are specific to each specialty. Reading materials will be assigned and each rotation may have requirements for case presentations or examinations.
External Medical Students
We are happy to be able to offer external medical students either virtual or in-person rotations this year. Please be aware of the requirements/restrictions due to the pandemic.
Please note that we are accepting applications through VSAS only.
The rotations we are currently offering virtually to external students are:
2-week General Radiology elective (Virtual)
4-week Neuroradiology clerkship (In-person)
4-week Musculoskeletal clerkship
4-week Nuclear Medicine clerkship
*NEW*

MedSTARS: Visiting Clerkship Program for Underrepresented Minority Students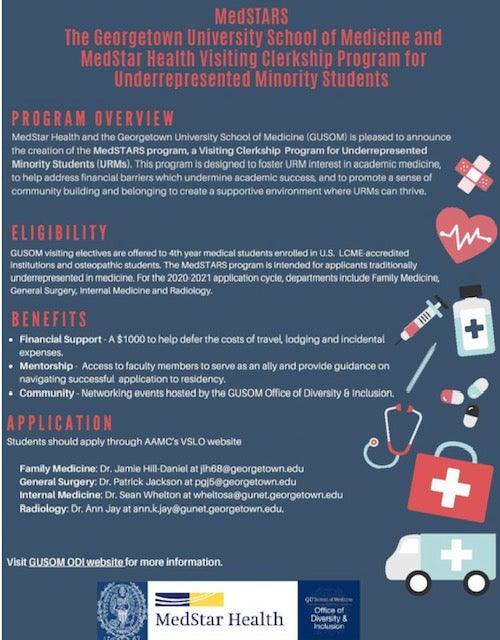 The Radiology Department is proud to be one of the first residency programs within MedStar to offer scholarships to underrepresented minority students for their Radiology external clerkship at MedStar Georgetown University Hospital. We are deeply committed to increasing the exposure of our wonderful speciality and institution to a wider population of students. Apply to become a MedSTARS! We are looking forward to meeting you!
Visit the School of Medicine website for more information and to apply.
Further Information
Please contact the Radiology Academic Coordinator:
Charlene Nebel
Department of Radiology
Georgetown University Hospital
3800 Reservoir Road, NW
CG201
Washington, DC 20007-2113
Phone: (202) 444-3450
Fax: (202) 444-4899
Email: Charlene.A.Nebel@gunet.georgetown.edu